Welcome to the Kyora flower blog!
WTF? (What's That Flower)
For all you'll need to know about the flowers of the week!
---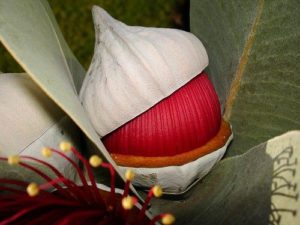 The Eucalyptus macrocarpa from Western Australia, very much valued for its huge dark pinky red flowers and grey-green foliage.
This beautiful tree reaches 2-4 metres in height with a width of 2-3 metres, making these giant gum nuts all the more spectacular when they burst open displaying their vibrant colour.
Do not be fooled by the photographs, these gum nuts measure about 3 inches (75mm) across with the largest of all the Eucalypt flowers. They can grow up to 10cms in diameter.
The Eucalyptus macrocarpa is an extremely low maintenance plant. Blooming in spring to summer, mostly red or pink-red. Best grown in Mediterranean climates with dry summer weather, and have proved shorter lived in more subtropical climates.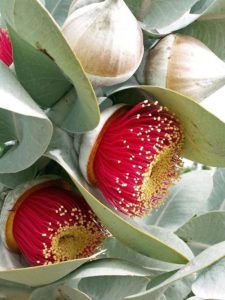 It is extremely important all households note the kind of wildlife your flora will attract:
Eucalyptus macrocarpa- Bees, nectar eating birds, butterflies & insects!
---
TIP – The Eucalyptus macrocarpa will split to release the seeds, their casing can hold a small candle! (Handy for all you DIY fans out there!)
This plant also being completely child friendly