Welcome to the Kyora flower blog!
WTF? (What's That Flower)
For all you'll need to know about the flowers of the week!
---
Pratia pedunculata is not a plant that will jump out at you and say, 'Here I am! Look at me!' But, it is a plant flowering right now that when you take notice, it will draw you in for a much closer inspection. Dainty and cute are the words that come to mind when I see this small ground cover plant doing its thing.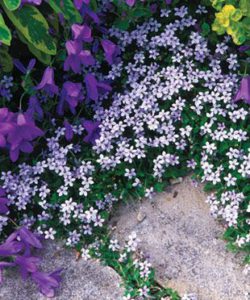 Growing no taller than 10 cm high, this creeping plant is perfect for in between pavers or rockeries. I actually have it planted with Dichondra repens in newest stepping stones and the two mix and intertwine exceptionally well to create a stunning combination ground over. Trailing Pratia has small, almost heart shaped leaves and when flowering, has small white star shaped flowers. Pratia can take full sun to part shade so be warned, when this little plant finds a spot it likes, it can tend to creep and spread quite quickly. Pratia prefers a moist soil and if too dry will totally shrivel up.
Take note of this little sprawler and look out for it in flower now. If you can't find it in a garden near you, it's a good plant to add to your own garden!
Written by Nick Mason.