The designing of this fire pit was most enjoyable. Ideas had been floating around my mind for quite a while and it was great to explore where each idea was to lead. The circular shape of the area was already decided. The main early focus was on how to use the recycled hardwood posts that were available. Below is a photo of an arrangement of timber that took my fancy. It was simple and effective, and I think helped accentuate the circular shape.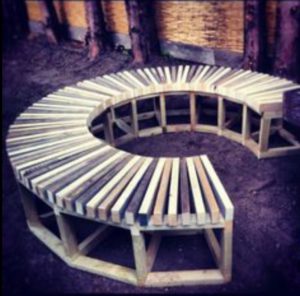 Once the timber was decided I knew I wanted to break up the circle in some way. Most likely by adding a garden or two to add interest to the area. It would mean sacrificing a spot for a guest around the fire but looking at the desired size, more than 10 people will fit anyway. The location of the garden wasn't to be central, but off centre, as I didn't want the area to be symmetrical. Below is an early drawing of where the fire pit was heading.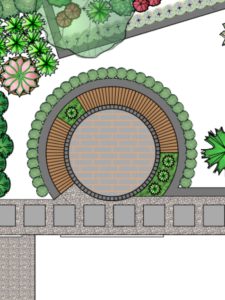 With the timber setout confirmed as well as the location of the small garden to break up the circle, a decision had to made regarding what surface I wanted underfoot. I planned on using a dark grey granite paver for the entrance to the house as well as stepping stones leading to the fire pit. So granite was an obvious choice. I still wanted to accentuate the circular motion so cobblestones came to mind. Cobblestones being small can achieve a circle quite easily. Even tight circles can be achieved by simply cutting the cobblestones into wedge like shapes. They also have a great rough texture to them adding not only textural interest visually, but also as you walk on them. The cobblestone option meant they are available in colours that will match and/or compliment the proposed granite paving so it seemed like the perfect solution. Lock it in, cobblestones it is!
Below are some photos of the early construction phase.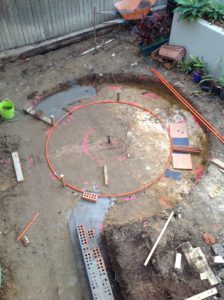 Concrete footings for the wing walls installed and the set out of fire pit area using electrical conduit starts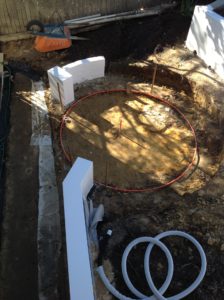 Wing walls constructed, rendered and primed for painting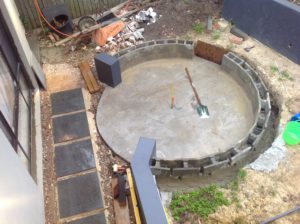 Block wall constructed and concrete pad poured in preparation for cobblestones. Granite stepping stones commenced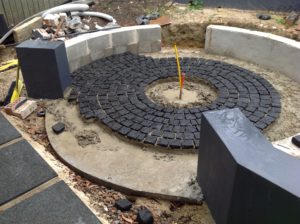 Laying cobblestones one…..by…….one!
As the construction continues, further design solutions are always required. The main design solution for this job is how to construct the seat to achieve the desired look. Using recycled hardwood posts, the challenge was to ensure the finished product looks modern and sophisticated while also not being too perfect in its appearance. Challenge accepted!
Look out for the next installment.. The seat will take shape and the finished product will be revealed!!
---
Written by Nick Mason