GLEBE PROGRESS – PART 2
---
Having met with the client and provided our thoughts, vision & recommendations we proceeded to quote the proposed works and we were swiftly awarded the project.
The initial part of the project is the demolition and removal of waste materials. This always has high impact as a large amount of change can occur in a very short time. With no room for a skip bin our next best option; Removal by bulka bag. The bulka bags hold 1 cubic meter of materials. This way we divided materials into mixed waste bags (sand, soil, roots and stumps and any general rubbish that is dug up) recyclable materials (bricks,tiles and concrete) and vegetation. They also supply a pick up service when the bags ready for disposal.  Rather than throwing away the bricks, knowing we needed to construct a new brick wall we decided to keep all to re-use them.
---
DURING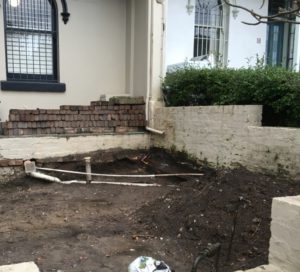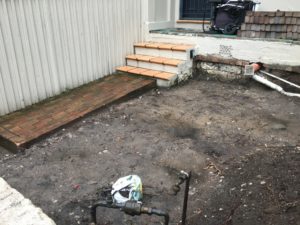 Once all demolition material was removed we were able to set out the locations of the new walls, new entrance path and bench seat. From this setout we could also confirm the plan to provide the garden with adequate drainage. An existing storm water pipe was located and we could connect a new drainage pit for the artificial turf area to this.
Footings 
poured
, walls constructed, walls rendered, tessellated tiles installed. The job was taking shape and with limited room to move, the project had 
been
coordinated
 so there weren't too many people on site. With the bench seat install also came the artificial turf. The garden was coming together with countless passers by all astonished by what we were achieving in such a small area.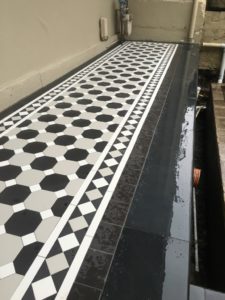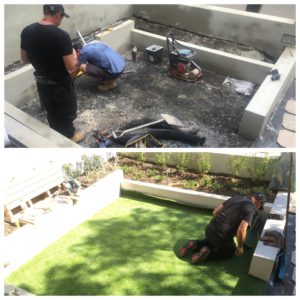 Soil and plants soon followed and the garden sprung to life. It's amazing what a few plants can do to transform a work site into a garden. Enjoy the photos below as the construction site evolves into a nearly completed garden. The completed of this job will be revealed in the next installment…..
---
 Written By – Nick Mason