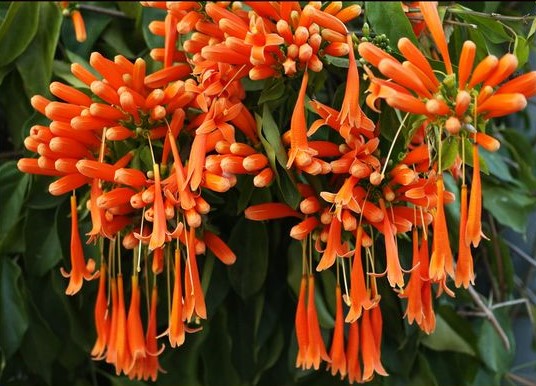 Welcome to the Kyora flower blog! For all you'll need to know about the flowers of the week!
What we do here is educate the public & our clients on the local flowers currently in bloom. Sharing with you the flowers that have even us questioning – What is that flower?!?
A plant that will brighten up the darkest of winters day is the Orange Trumpet Creeper, Pyrostegia venusta.  You will notice this plant flowering from the start of Winter (June) until Spring (October).
For most of the year this plant goes un-noticed as a relatively discreet climber, but when it flowers, WOW, it's a standout!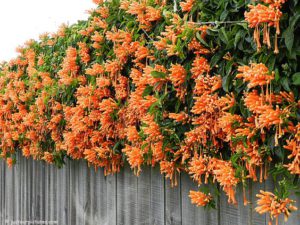 The Orange Trumpet Creeper grows well in Sydney and North of Sydney. Orange Trumpet Creeper prefers a sunny spot with excellent drainage and regular moisture particularly when it's hot and dry, in the cooler months it requires shelter from cold winds and frosts. This plant is an evergreen climber with a growth habit a bit less vigorous than a Star jasmine for example, it is relatively low maintenance. With the ability to grow over fences and across pergolas, this plant can create a thick covering over its host structure. Prune away spent flowers to encourage new growth in spring!
Keep an eye out for this stunning floral display coming to a fence or pergola near you soon!
---
Written by Nick Mason.