During (Rear garden)
For the second instalment of our Curl Curl job, we will look at the progress of the project over the few weeks it ran for.
Having fine tuned the design, the first thing we needed to do was measure and draw up the raised planter beds to be fabricated from Corten steel. These had a lead time of around 1 week to be cut and folded to our dimensions. The measurements had to be accurate, but most importantly, the angles we needed folded had to be perfect. What we also did was draw up a cutting list to ensure we got the maximum material out of each sheet with minimum wastage.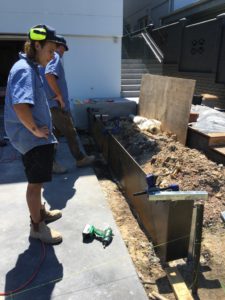 The Corten arrived and the angles and cuts were spot on. Time to start the install.
Out the back the deck was constructed, the boundary 
walls painted, and the block wall is clad with sandstone to match the existing rock shelf.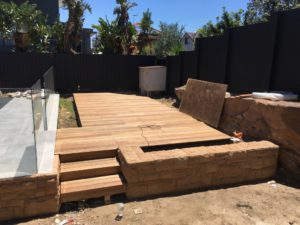 Large sandstone stepping stones are installed to link the side access with a bedroom, the main alfresco area and the steps to the deck and pool. Soil is delivered and installed and we start to cultivate the gardens in preparation for planting.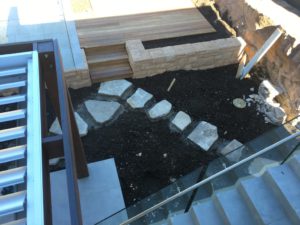 Plants arrive and the fun really begins. We install the Greenwalls and start planting!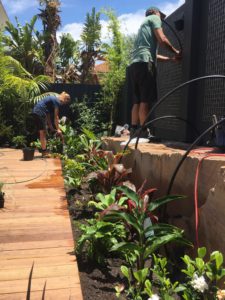 The palnts are planted and we look forward to the finishing touches to complete the works. Irrigation is installed in the gardens and the Greenwall so watering can be automated.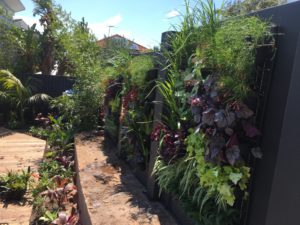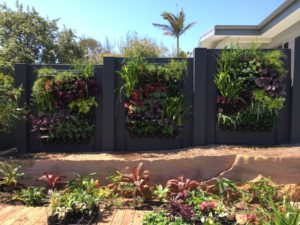 As the project nears its end it is hard to not get excited about the finished product. With a happy client, it really is a rewarding job we have!
Stay tuned for the photos of the completed project! The transformation will be complete.
Written by Nick Mason – Residential Construction